For over 65 years, McDonald's has been a significant presence in our modern cultural landscape. A global icon. A neighborhood restaurant. A road trip staple. A place for celebration. Something you can count on, wherever you are. Across its iconic history, we've all grown familiar with the brand, attaching our own meanings and memories along the way. And every icon needs to keep evolving, surprising and finding ways to remain fresh and relevant, especially with 65 million customer touchpoints every single day around the world. A mind-blowing figure, right? So, how do you harness the universal love and iconicity of a brand like McDonald's to create moments of joy for customers everywhere?
Over the course of our partnership with McDonald's, we must've had dozens of cheeseburgers, hundreds (if not thousands) of Chicken McNuggets® and every McFlurry® for the serious sake of research. We also filled the pages of plenty of sketchbooks on our way to finding a playful, can't-help-but-smile type of design. This story of this partnership starts in 2016.
Transforming McDonald's Packaging To Create a Feel-good Future
When a new design launches, people often don't realize just how long it can take for it to come to fruition. It's not uncommon for the evolution of one of the top global brands, at such a scale, to take this sort of time. After all, things that are built to last, and become icons, take time.
Ultimately, our brief from the client was to elevate the packaging experience, realigning it with the brand's broader steps to modernize the restaurant experience. In order to future-proof the brand and deliver on its purpose, we needed to move the packaging toward a simple, iconic, fresh and playful design.
We set out to create moments of joy and memorable experiences.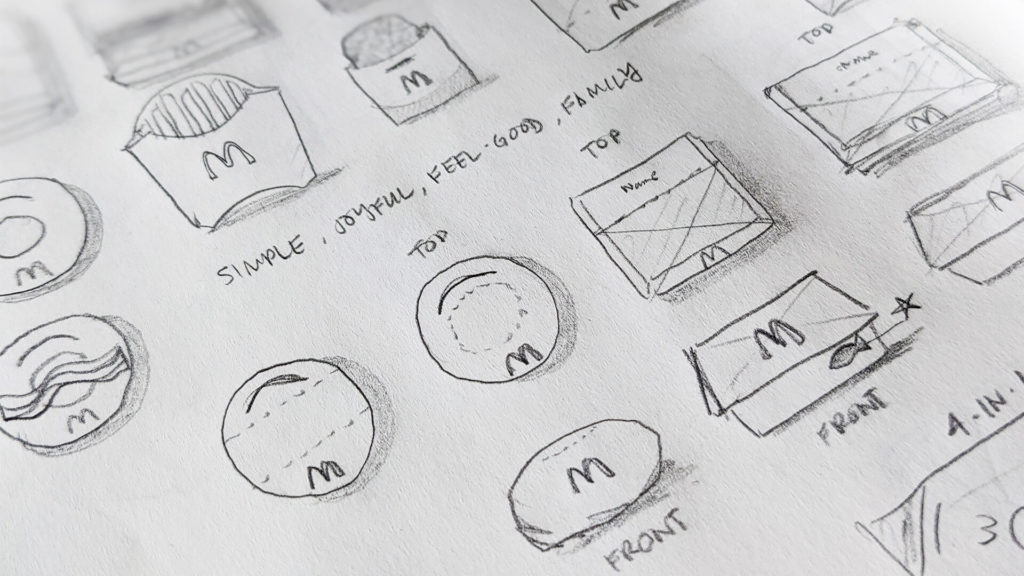 More Than Just Iconic Food
When we are redesigning a global packaging system, our goal is always to find ways to improve the overall expression and communication of the brand. We set out to create a system with a universal visual language, unique to McDonald's. We did this by supporting their renewed visual identity and celebrating their personality as a brand, by highlighting the moments of joy they bring to their customers. We did this by identifying what was really special about each of their iconic menu items and imagining ways to help them better resonate around the world.
The packaging should be part of what McDonald's really is today: a modern, familiar and joyful experience. Our idea was to use the packaging as a creative space to showcase the specialness of every unique menu item – cutting out the visual noise and creating an iconic, universal visual language.
Menu Items, Messaging and Expressing 'More With Less'
Essentially, what we wanted to achieve with the new packaging design was to say more with less. This meant putting what's special about the brand in the customers' hands.
The McDonald's experience is different for every customer, so we kicked off our process by asking our whole team what makes McDonald's (and their favorite menu items) special to them. Interestingly, but reassuringly, there was a lot of overlap: 'easy', 'reliable', 'consistent', were just a few of the answers that came up time and again. This consistency in the customer experience gave us a huge advantage as a starting point.
Our next step was to get to know the menu even better than we thought we did – to truly understand the most distinctive, recognizable visual stories for each item. A global market meant an array of languages, so it would be a challenge to rely solely on item names to do all the heavy lifting.
Instead, we created simple, playful illustrations for each item to connect customers to their food in a fun, observable way. No matter the region or language, we wanted the packaging design to simply inspire moments of joy through a universal visual language for people around the world.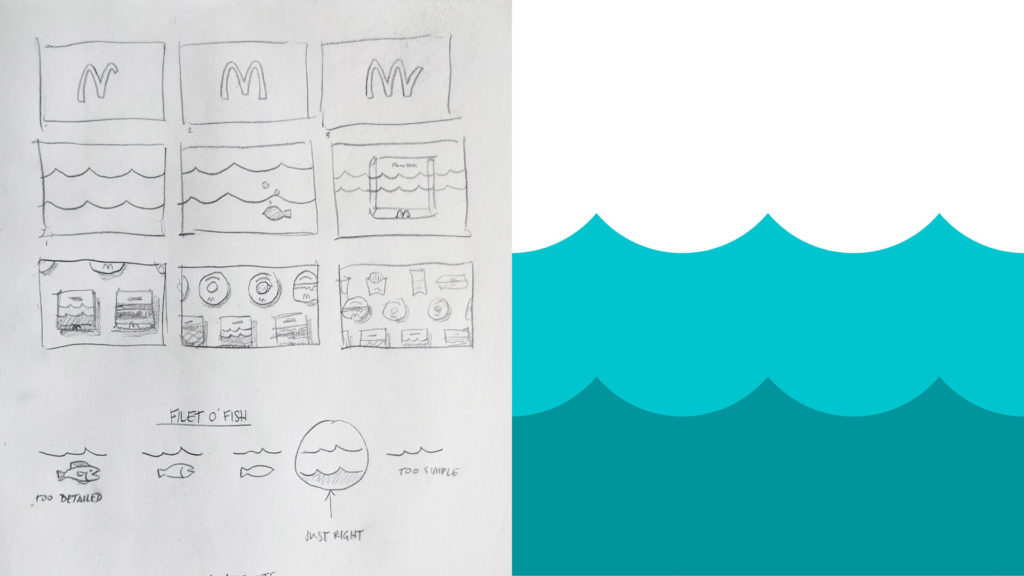 The Concept of Scaling a Simply Special Solution
Setting out for a solution with simplicity is a challenge in itself. But creating a system that is easily recognizable, unique to each component while remaining connected in style and spirit to a brand that operates at the scale of McDonald's is a one-of-a-kind request.
Right from the start, this was one of the most fun projects I've ever had the privilege to work on and that comes down to mutual trust and openness. The team at McDonald's trusted our creative expertise and spoke candidly with us about what's right for their brand.
I don't know how many concepts we ultimately took to the team. Some ideas leaned into shapes, some favored color, some we took off the table as fast as we put them on – especially if we felt that there was any ambiguity about whether the design could belong to another brand. And the client also wasn't afraid to say, 'This is great but it's just not right for us – it's not the one.'
We initially cast a wide net and explored a broad range of solutions before landing on our winning concept. You can imagine the excitement when we realized the heart of the idea, and from there it became a focused study to define the system and how it could speak to every menu item. Anchored and inspired by the iconic simplicity of the Golden Arches, we wanted each and every piece of packaging to appear as its most telegraphic, boldest version of itself.
The fact that the full family of products now looks confident, cohesive and simple is because a lot of time, care and thought went into stripping each item to its purest, most personable form.
From the Strategy to the Sketchbook
We first focused on a few of McDonald's most recognized and beloved menu items to ground the system: the Big Mac®, Quarter Pounder® with Cheese, Cheeseburger, Egg McMuffin® and Filet-O-Fish®. After exploring a range of solutions, we continued to gravitate toward an expression of the Filet-O-Fish® with a set of simple, teal waves. But it was our design for the Egg McMuffin® where we cracked the code for the system, proving we could communicate the essence of a single item with the purest illustration. A bright yellow egg yolk surrounded by white space on the wrapper was a gift and, to this day, is my favorite design in our system.
For the team, this was a great feeling. We spent a considerable amount of this journey asking ourselves, 'How can we make this more clever, more thoughtful? Is it simple? Is it joyful enough? Does it feel like a family?' We also added playful 'winks' to some of the items to add a layer of joy with discovery. We thought, if we could make someone smile, then we were on the right track.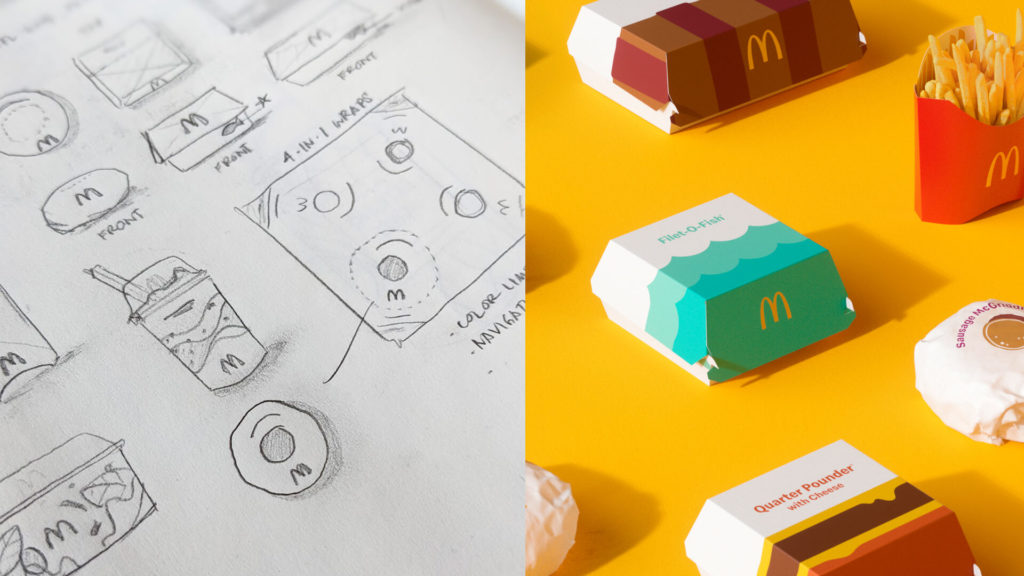 Elevating the Familiar to Design for the Future
These designs aren't literal interpretations of the menu across the entire system. For some items, the most fun aspects are the ingredients that make them. For others, it's the way they make us feel. The menu items sparked much of that iconic expression. Integrating winks added that special touch to elevate the packaging. McDonald's cared enough to deliver on these thoughtful details.
For the Filet-O-Fish®, a literal illustration of a fish on-pack could work, but simple waves show a more thoughtful, playful approach in the way we bring the item's personality to life. We added a small fish (or two when you order a Double Filet-O-Fish®) along the bottom of the pack as a wink for customers to discover while opening the clamshell.
The McFlurry® is a great example going further with the system. We created a visual celebration of the swirling, spinning treat that captures the essence of the dessert, how it's made as well as the cooling feeling you experience while enjoying it.
One of the most intimidating things was to work across all of the packaging structures, the wrappers and boxes that people are most familiar with every day. Finding ways to communicate the core of the Big Mac®, the Cheeseburger, and even the sauce packs in effective, enticing ways was so important because they're such frequent parts of the McDonald's experience. The cheese dripping on the Cheeseburger wrapper doesn't just immediately and deliciously visualize taste, texture and melting gooeyness for the customer but is also a key asset for the crew in the kitchen. Meeting those multi-level needs became our measure of success.
Testing the System
Before its market release, our system was put to the test – literally. The packaging design was introduced in a small sampling of restaurants and our team was lucky enough to observe the process. This was different from sitting in on research panels or receiving end of the 'qualitative' or 'quantitative' data. During this visit, we actually experienced the design testing first-hand with both the restaurant crew and the customers. Being invited to witness this phase of the project was another mark of the close relationship we had developed with the McDonald's team.
During a day of business as usual, we asked the restaurant crew for complete honesty and observed customers interacting with the new designs. It was somewhat surreal for us looking on as packaging designs that were once just sketches were put to work immediately, efficiently and at-speed to help differentiate in a busy environment. It also gave us the opportunity to help find solutions in-real-time, rather than hearing client feedback and trying to retro-fit ideas back in the Studio.
Now we could share in the ultimate triumph – that this new design would not just deliver for everyone, but bring joy, too.
At the end of 2020, as our strategic design involvement ended, the global roll-out began.
We provided McDonald's with a portfolio to take them into the years ahead, created a fresh restaurant experience and brought customers into the playfulness of the brand.
Ultimately, we have delivered a modern McDonald's meal experience, and one, consistent look around the world. We designed significant pieces of a new, feel-good family of products that will make for millions of individual moments made better by McDonald's.
View our full case study showcasing the McDonald's packaging redesign and hear more from Matt Sia on a recent episode of the Package Design Unboxd podcast.