Designing the covetable private brands of the future
Call them what you will – own brands or private label brands or store brands. No matter the name, private label brands are increasingly occupying more significant space in our stores, our home and in our hearts.
Gradually, private labels have shed their "knock-off" status and have become true brands in their own right. Simply put, private label brands are brands, too. Over the last decade, our work in distilling the individuality and intrigue for the likes of LOVE Life for Waitrose and Market Pantry for Target, as well as making these names and others desirable has influenced who we are as designers at Pearlfisher.
We've watched closely during the pandemic as the playing field has levelled between national brands and private brands. According to a McKinsey report on consumer behavior change due to the pandemic, up to 75% of American shoppers have changed their brand preference, opting for private brands at places like Target, Amazon and Aldi. While lockdown inevitably saw us reach for our comforting, well-known names, many private labels provided us with the excitement, escape and difference we began to crave in quarantine.
Now, we are taking a closer look at this shifting retail landscape and the opportunities it affords, particularly when it comes to continuing to design private label brands that people will love.
Values over Value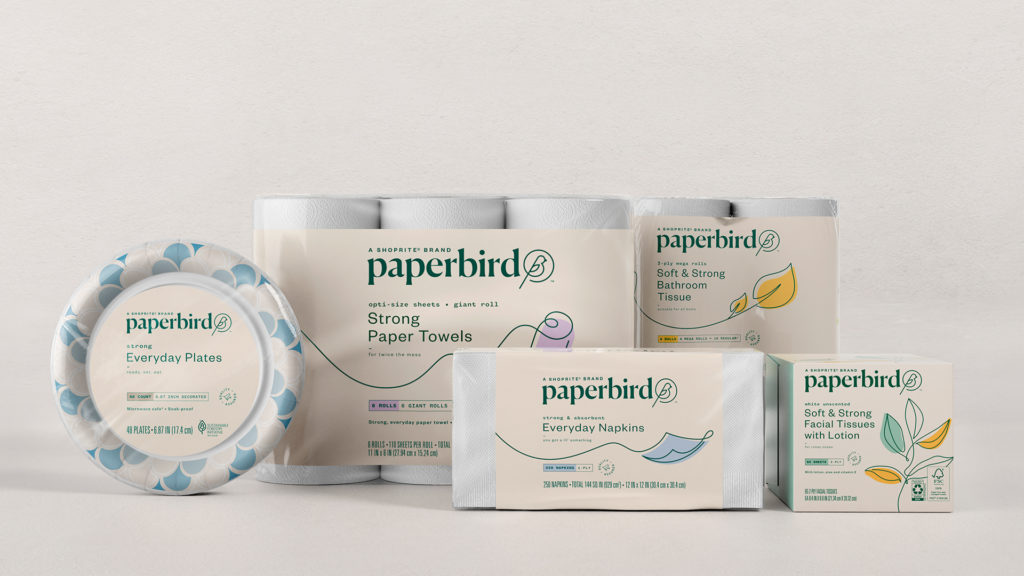 With the growing significance of everyday items, the field is wide open for private labels to brand the basics better than the national brands. Just as you'd build a national brand with its own DNA, each private brand should have its own point-of-view and purpose that can be brought to life. Be it household essentials, technology or groceries, there's an opportunity to revolutionize the bland and apologetic in order to create products that are vibrant, sophisticated and shelfie-worthy.
Last year, we worked with Shoprite to introduce Paperbird, designed to bring craft and meaning to the grocer's private brand space and environment. With its modern, precise and uplifting aesthetic as well as its identity design, Paperbird has already become a coveted entity in its own right. Encompassing the idea of being free as a bird, the brand design and products focus on the stuff that matters. The brand has also been extended into ShopRite's point of sale systems and is a mainstay on Instagram through partnerships with lifestyle influencers such as @purejoyhome and @thechutneylife.
Praise Your Parent Brand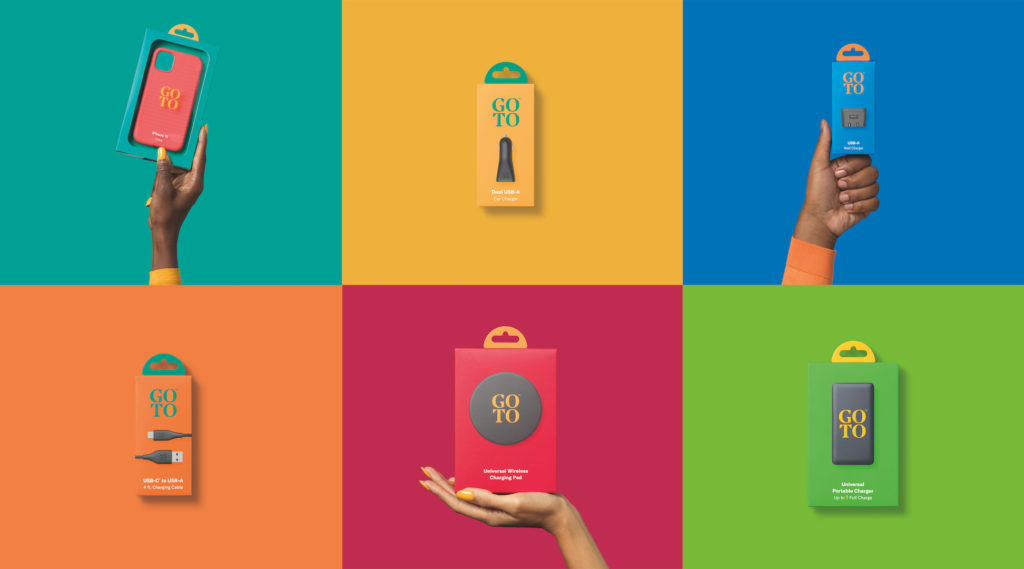 Private label brands have the upper-hand on icons when it comes to agility and freedom of movement. This is due, in part, to the fact that the consumer-set shopping in any given store has already bought into the overarching masterbrand for a reason. While shoppers are still discerning about what they'll take to the checkout line, they're a captive audience with a high tendency to trust the sub-brands built by the stores they love. Private brands are uniquely positioned to strengthen those consumer relationships by creatively channeling and celebrating their expertise.
The world of accessories and add-ons has become overly complicated and disconnected. So, for a brand in the business of communication, T-Mobile's new line of tech accessories, GoTo opens up a brighter and more personable world to easily meet people's mobile and connected lifestyle needs. The brand offering and design set a new benchmark from which to steer the look of a new future in this space, leveraging T-Mobile's footprint and knowledge all the while.
The Power of Prideful Design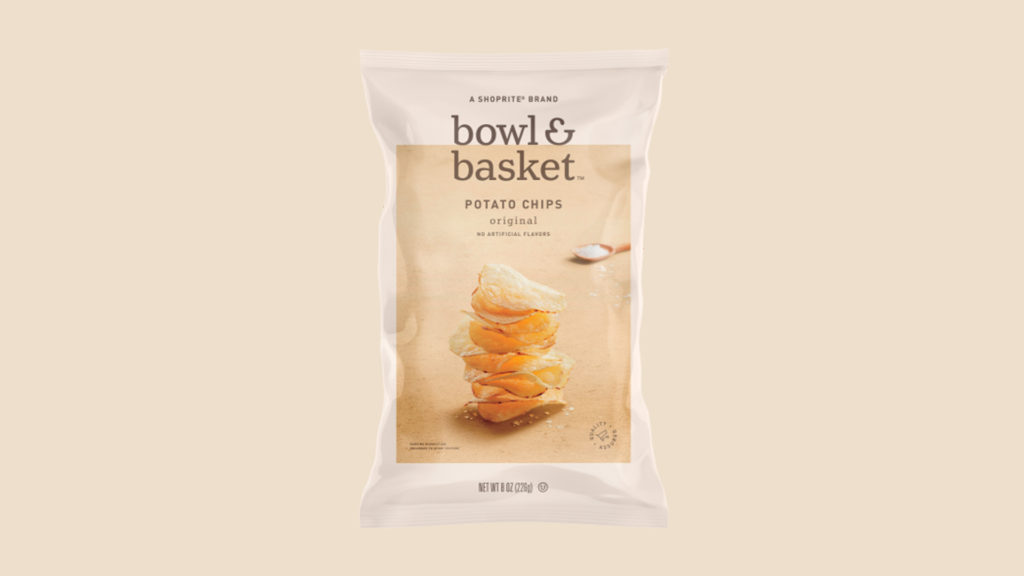 Private label brands have always been the trailblazers when it comes to creating exciting sub-ranges and unique product innovations. Depending on the number of own offerings a brand wants to create – from a single flagship to several own varieties – design will be the differentiator. This is dynamic territory with a huge opportunity for all players to invest in new ideas and contiguous categories; while still delivering on the price, promise and personality for which they're known.
Bowl & Basket, a new ShopRite brand for food and beverage products, is an optimistic and design-forward example of modern private brands. Within the family of products, Bowl & Basket's chips have become a staple for shoppers. Rather than having to hide an uninspiring bag or even find a separate serving dish altogether, the new stylish packaging with soft color schemes and real food photography have become part of the table setting – they've become shareable.
Knowing Your Consumer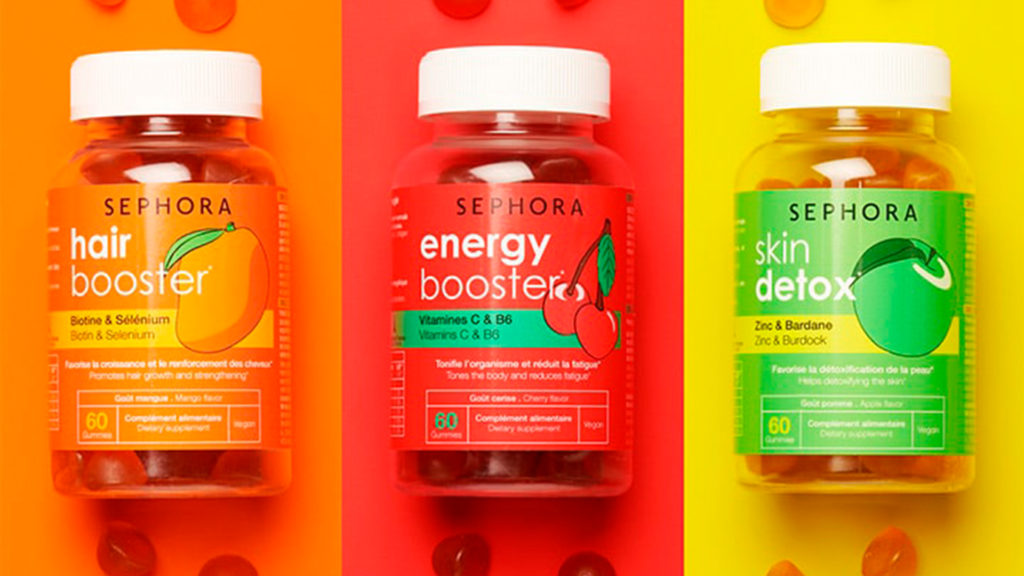 Private label brands don't necessarily have to create equity in something new and introduce a new brand. Rather, the private label opportunity might be constructing a new value system based on an established brand's existing expertise. An own brand's access to consumer insights and scalability through its parent company can't be matched. Already knowing the answer to what's resonating with consumers means knowing what could unlock future business opportunities.
Sephora channeled its insight and influence when the brand introduced a new line of Sephora Collection Beauty Gummies and vegan food supplements. Currently available in their French locations, the products perfectly complement Sephora's brand attributes with bright, fresh, natural and distinctly colorful expressions. All of which are characteristics that resonate with Sephora shoppers, but also possess the power to extend the brand's offer to new audiences.
Private label has the opportunity to be the optimist and the savior of retail in changing and challenging times. But, it will be creativity, not commodity, that is going to secure business and consumer success.
Where the private brands of the past may have been apologetic, a new era of private brands are leaning into their appeal. Especially as new generations of shoppers present new degrees of desirability. Through thoughtful design, we can secure a new future and resonance of private brands as the category draws in our next generation of discerning shoppers.