When Dove's Real Beauty campaign first launched, it wrapped women everywhere in the feel-good factor and inspired them in a whole new way. We felt closer to the brand. We liked and trusted it for knowing us.
Now, Dove has sparked our emotions once again, although maybe not quite in the way they were envisaging. It has put its Real Beauty ideals into six bottle designs that are meant to mimic the shape of its female customers and empower women to feel good about their bodies.
Instead, the new bottles have created a backlash, provoking cries of 'farcical' and 'patronising' for taking the idea of real women just a bit too far. We may know what our shape is but that doesn't mean we would want to pick it out from a line-up of mis-shapen plastic bottles in a supermarket or drug store. Dove's intentions were no doubt good but, in reality, they were severely misguided.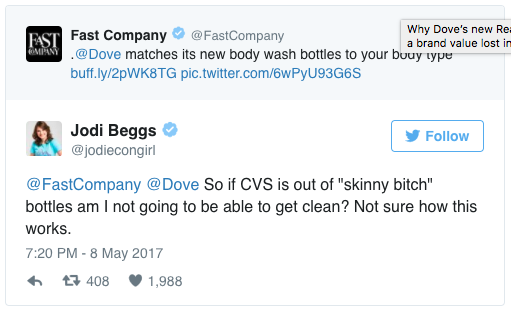 The new bottle structures are best described as awkward – a reflection of how they are initially making us feel perhaps? This goes against the whole ethos of the beauty category, which should always be inherently aspirational and desirable. If the bottles had been beautifully crafted shapes then maybe the public response might have been different. But, they have actually just compounded the idea of being the 'wrong fit', hence the backlash.
It's true that we're looking for brands to find new ways to personalise, to be more authentic and to unlock creative and unexpected experiences for consumers. Crucially, creating an experience through packaging can be a big challenge for brands but one they know they must overcome. As the Dove example illustrates, that takes an acute understanding of the brand and what it stands for, and specific design thinking expertise to make that message resonate in an emotional – and desirable – way on shelf.
Packaging is one of the most crucial ways a brand communicates with its consumers, and simply translating an advertising campaign into packaging design just won't cut it.
Before starting to write this, I asked around my Pearlfisher colleagues to see if people agreed with me. I was particularly interested to see if the men amongst us would be as scathing of the structures as I was.
Hamish Campbell, our creative director in New York, came back to me with this, which I think sums it up perfectly: "This is a subject that they've handled so beautifully in the past, acting as an ally for women.
"But by translating their great campaigns into a physical manifestation, they've taken the brand from being a silent ally in-store to a very in-your-face cheerleader."
This article originally appeared online on The Drum.