Over the past 25 years of business we've made many discoveries, one being that we're more likely to uphold our philosophy of creative excellence by confronting creative fears and taking risks together. We've always taken pride in fostering a working environment that not only produces great work for our clients but encourages internal professional development and self expression — which is why the Pearlfisher New York studio recently participated in the 36 Days of Type challenge.
Now a global challenge intended for the design community to experiment and channel their creativity, 36 Days of Type began as a small accountability system between two friends looking to experiment with and grow their talents. For each day, the creative brief is simple: create a representation of a letter of the alphabet as well as numbers 0-9 (36 in total) in whichever format or medium you wish.
Roughly 20 people participated in the challenge from our New York studio. We spoke with some of them to hear about their experience—whether they finished or are still in progress—and to glean any discoveries about their peers or themselves along the way.
Matt Sia, Associate Creative Director
What was the theme for your 36 Days of Type project? Or how did you get inspiration for each letter?
I titled my series 'Clay to Z'. So much of what we create as a team is graphic and two-dimensional. I wanted to explore an alphabet and number series through sculpture, to seize the opportunity to create something three-dimensional with my own hands.
I was inspired by the idea of finding meaning in each letterform—whether it was expressed through creatures and objects or simply finding ways to hide letters in plain sight. There was also potential for a playful variety, which prevented me from becoming too precious with each post. I sculpted during creative breaks between work and home, spending anywhere from 5 to 45 minutes concepting and crafting each letterform.
How do projects like this benefit and challenge your creativity?
Often times, the most challenging briefs are wide-open, where we can choose to do what we want. For me, the challenge was starting from a ball of clay and little to no planning, and ending with a story or a character with personality that I felt good about.
At the end of each day you actually destroyed your letter. Why and do you think that changed the way you approached the project?
It was a great exercise in being less precious and more spontaneous. I think this is important when it comes to how we ideate and create things because a lot of what we do is temporary. It was liberating to create something and then smash it immediately after–the process felt more special that way.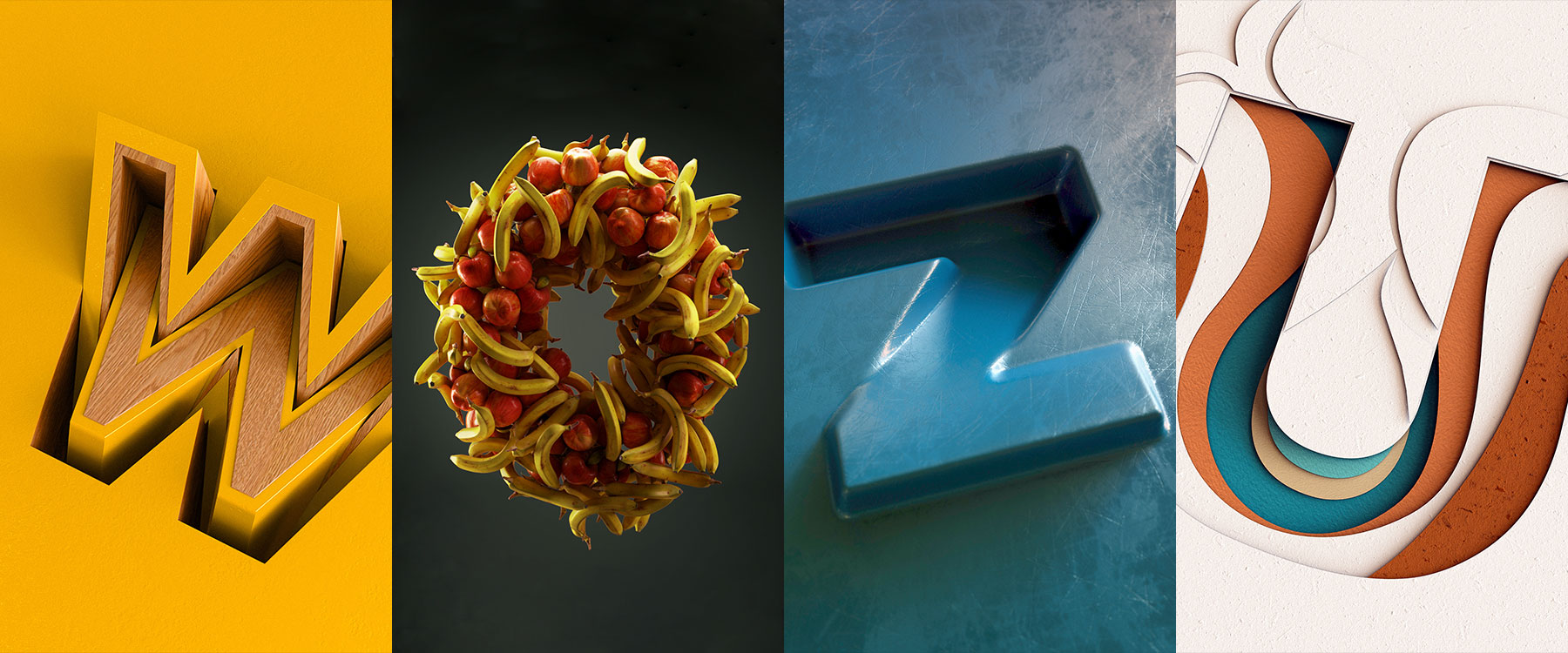 Mat Brown, Senior Visualizer
What was your overall experience during the 36 Days of Type project?
This is the third year I've participated, but it's always a really nice excuse to try new things because I work very much in the realm of 3D. So in the context of packaging, you generally get assignments like, "make a box, make a bottle", but there's so much more that you can do.
This was a nice way of being able to show my peers what else I can do and potentially a way of getting more out of our in-house talent. Off the back of doing this, designers would come to me about techniques I used in my entries for the challenge and ask if it could be used in projects, so it's a nice way of building and flexing skills.
How do projects like this benefit and challenge your creativity?
It's sort of bad behavior, but I wasn't sketching these prior to starting. The software I use offers these tools that I call "deformers"—tools that I never get to utilize—like explosions, squashing, stretching and I wanted to try different things out just to see what happened.
What was most surprising to you about this process?
It continues to blow my mind how much time and energy people at Pearlfisher put into passion projects and creative things outside of work. Aside from how many people participated, I was impressed by the range of work as well. There's a real array of skills that people have that I wouldn't have otherwise known about.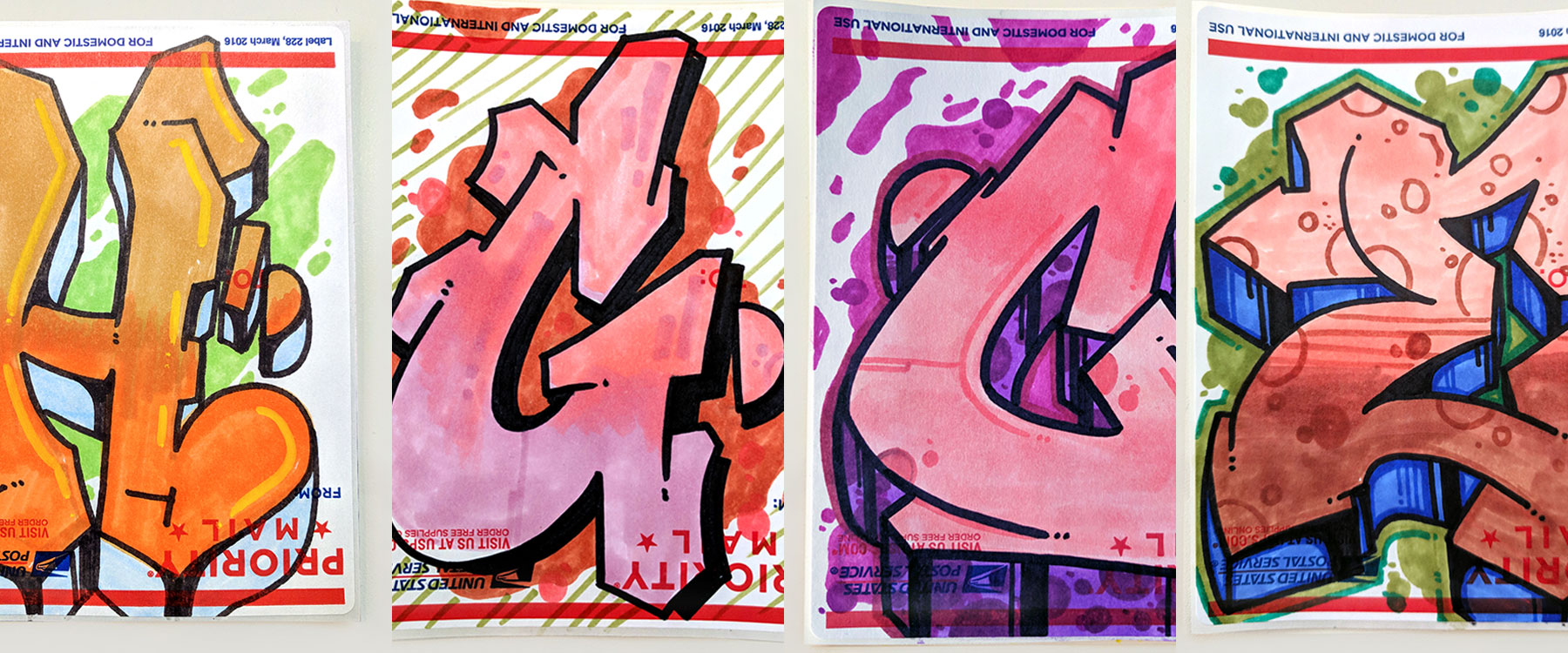 Stephen Kwartler, Senior Digital Artworker
What was the theme for your 36 Days of Type project? Or how did you get inspiration for each letter?
My theme was graffiti. Growing up, graffiti was my number one release artistically and it still is until this day. My project kind of became a play on itself because when you're a kid you usually don't have any money, so you want free tools. The post office gives away mailing labels that you can draw on and then post wherever you'd like. I didn't want to draw on the computer, so I kept it to this theme, which I guess is a classic New York thing to do.
Stylistically, I also kept it as NY style: simple, bold, not too crazy. Every single one of these are marker, outlined in sharpie. I didn't use the same color for any one of these.
Are your entries from 36 Days of Type in line with your other graffiti work in terms of style?
These are definitely in line with my style. Graffiti in general is not unlike any other medium where you can make the connection between art and artist once you become familiar with someone's work. You can tell someone has a distinct style. Graffiti is really self centered because you're writing your name all the time, but you develop a unique style that's immediately recognizable.
This challenge was different because the entries aren't part of a larger scene or cityscape, but it gave more focus to the letterforms themselves. Something like 36 Days of Type is so massive online, so it was awesome to have a micro-community within Pearlfisher for this, so we could keep a feedback loop open.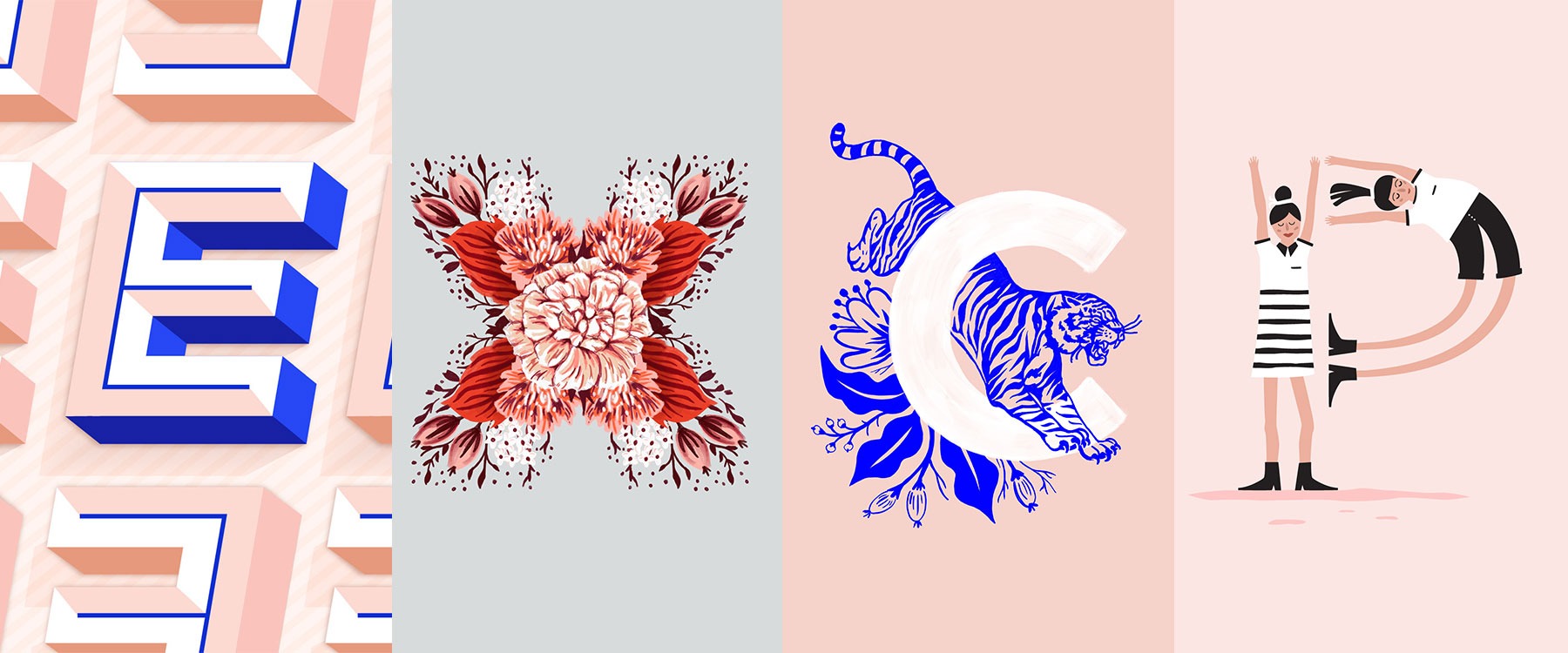 Kasi Turpin, Senior Designer
What was the theme for your 36 Days of Type project?
I think it would've been easier if I did have a theme, but I kept my collection pretty open. I do a lot of typography and lettering, so I wanted to use 36 Days of Type to really push illustration into my forms and to try as many styles as possible. If there is any through line in my posts, it would probably be the use of similar colors.
What did you like most about participating in a challenge like this alongside your Pearlfisher team members?
Being new to the team at the time, I hadn't really gotten a sense of everyone's mixed style and the things that they do. I thought it was amazing to let this challenge breathe some fresh air into people's interpretations of the alphabet, because I think no two alphabets look the same, which shows how diverse our perspectives are as a team.
---
Of the designers we spoke to, one of the most common reflections was that the creative process changes once you begin, but often the accidents and unexpected events contribute to or become part of the end result.
As the adage goes, it takes 21 days to make a habit. However, we found that in 36 days, bold ideas reach new limits when the crux of the creative brief is individuality. Throughout the exercise each designer learned new things about themselves and their peers' personal design taste and style — proving that an activity like 36 Days Of Type is worth companies participating in to help inspire and educate their most important asset—the people.