As the world emerges – in varying degrees – from the chrysalis of lockdown(s), the question many people are asking is, what's next? How will people be living their lives and what will be important to them? Crucially, for brands, that translates to what people will want from them.
For food, beverage and wellness brands, a great space to explore these questions, and see how the answers are already coming to life, is Natural Products Expo West; held annually (pandemics aside) in California. We dusted off our business cards, reminded ourselves how to book flights and joined the Expo in support of clients and to observe emerging trends.
As designers, we naturally approach change as an opportunity; to create the new and solutions that are better, more efficient and effective than what's come before. Excitingly, many people, brands and businesses approached the pandemic with a similar mindset. Here we share the key product innovation, brand and design themes that are emerging from the last two years of isolation and the opportunities they present for brands:
Mainstream Regeneration
Regenerative agriculture and soil health is moving from niche and confusing to a mainstream vernacular and a clear reason to believe for consumers. General Mills represented this in the main pavilion with their immersive walk-through experience for EPIC and emerging players, like our friends at Pasturebird, bring this to life throughout their brand DNA and brand stories. The message of regeneration talks, not only to the quality of the product itself, but the shared values between consumer and brand, which is key for both Millennial and Gen Z consumers. The key to getting the message across is to demystify the approach without diluting the richness of the story (and the soil itself).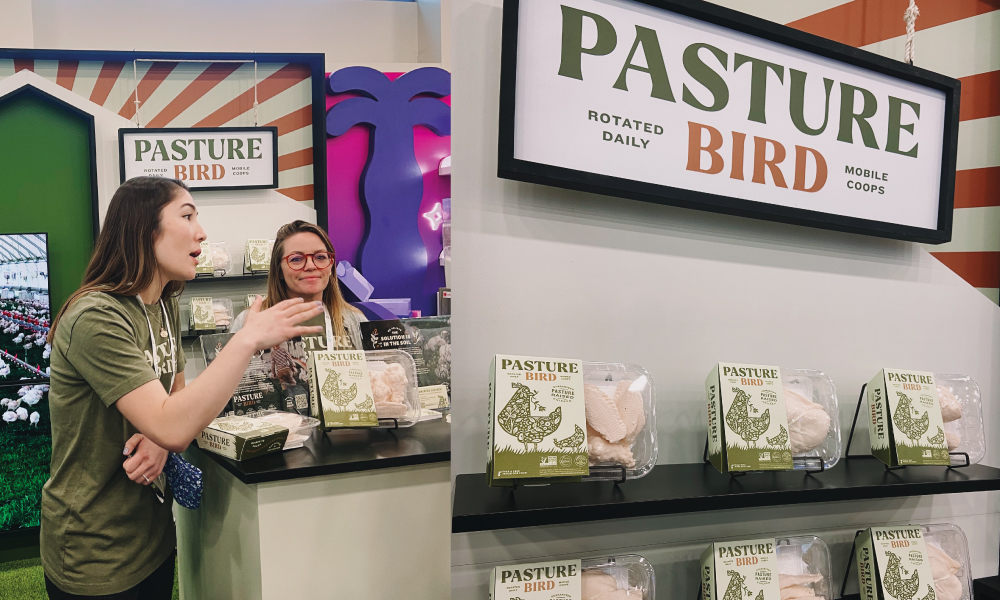 Alternative standout
As the global population approaches 10 billion people (by 2050) and the question of how we sustainably feed that many people become a priority, brands offering alternative protein sources are proliferating the market and were a big feature at the show. Whilst many of the brands seemed to merge into one, Daring, jumped out with its name and bold branding. As we see the category evolve and become more complex the need for a strong product and brand story will become essential. No longer is the novelty of the alternative product format enough to grab attention. The need to communicate the unique qualities of the product, taste and serving suggestion will be key for brands to win share in a fast becoming saturated category. Upside Foods have made their proposition and taste-appeal easy to understand but also clear in articulating the process and science that goes into creating their cell-cultivated meat alternatives.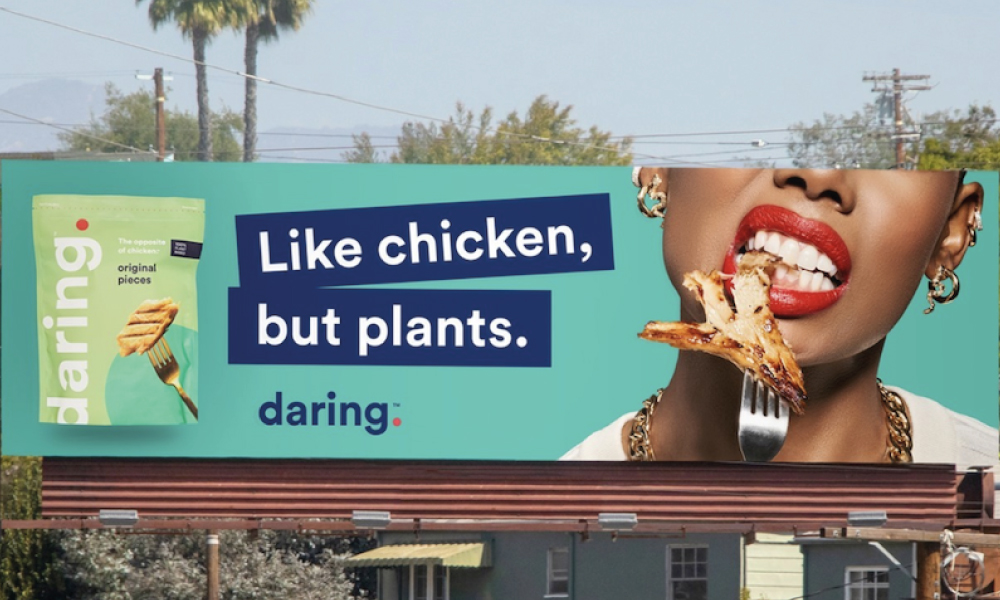 Bold Homogeneity
Notably, a lot of brands across categories share the same design aesthetic – bright, flat colors and simple fonts – which, although vibrant, are ultimately another expression of blanding. There were multiple brands with almost the exact same look and feel: a mac and cheese brand that looked like an ice cream brand that looked like a drinks brand. All are bright, poppy, and use virtually the same design codes in their primary mark and secondary language. One brand bucking the trend in a category where this is prolific – ice cream – was dairy-free gelato brand, Nubocha. The clear brand mark and bold colors are complemented by an illustrative pattern made up of animals and plant life that speak to the inspiration, care and attention that goes into every pot. By offering more intrigue and complexity, and shifting from just standing out to standing for something differentiated, they grabbed attention and held on to it.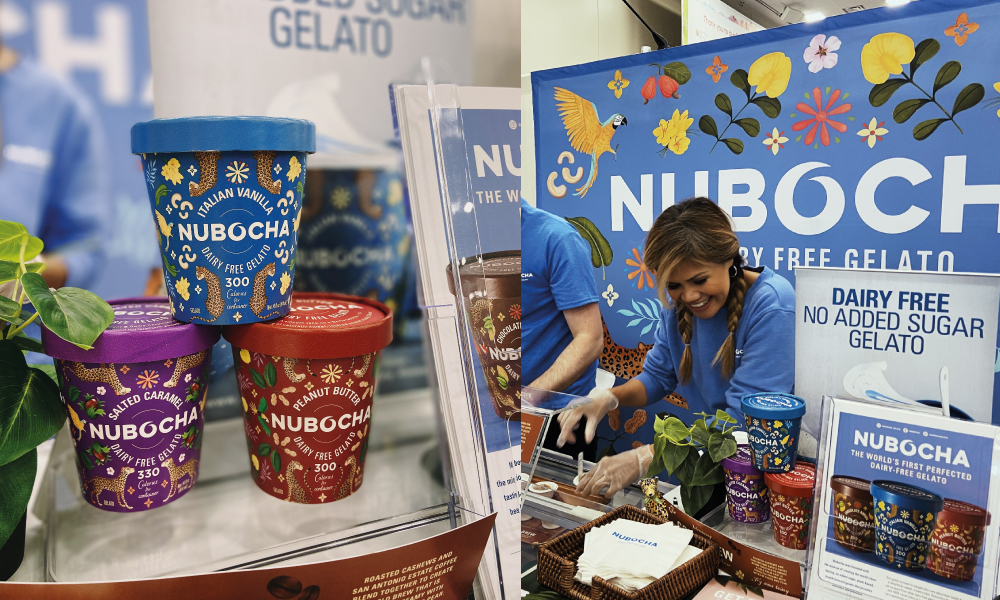 New frontiers
In response to both the homogeneity in the dominant areas of the retail aisle, as well as an increasingly fragile relationship with the planet, we're seeing emerging design codes that speak to new frontiers. They reflect a new emphasis on space exploration, and mind exploration too. With psychedelic colors, 70's typography and more eclectic visual language, the design language is arresting in its novelty and intriguing in its tone; inviting the consumer to not only learn more, but to imagine more. Standout brands in this space, like Gen Z ("for people who never owned a flip-phone"), Psychedelic and Toodaloo are breaking traditional cues and codes to move beyond telling you what a product or brand stands for and talking more to philosophy or mindset.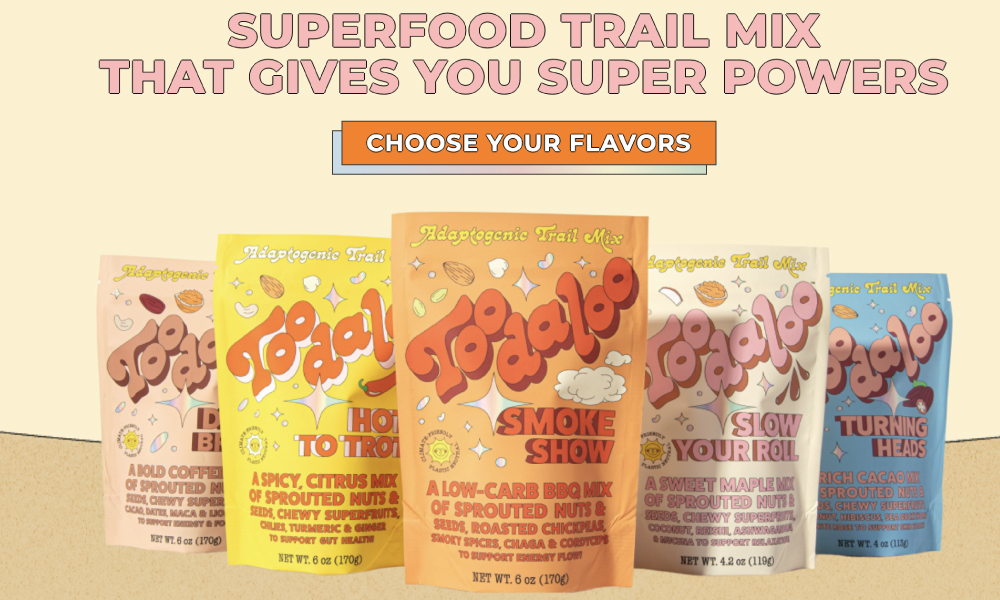 Alongside all of these themes of change, one we were perhaps most pleased to see was the shift in the diversity of new brands and brand owners at ExpoWest. From female-owned, plant based, CBD mocktail brand, Little Saints, to Sanzo – which was founded by Filipino American, Sandro Roco, and aims to celebrate high quality Asian flavors that for decades have been masked by added sugars – people are creating innovative brands and products that tell a different story and offer something new for a broader range of consumers. Crucially, this increased diversity in business means the need for more diversity in brand design, in order to amplify and celebrate the new stories and core ideas at the heart of this evolving world of brands. This is a shift we're excited to see, and contribute to, in the coming year.