As one of the key design events of the year, Dutch Design Week is renowned for setting the creative agenda and presenting creative solutions to some of the world's greatest challenges. Here, we present the top 5 emerging and innovative themes discovered by our Futures team at the 2018 event. Many of the projects showcased confronted controversial topics and became the seed of exciting new ideas that have the potential to transform and challenge mainstream industries.
 Positive Intelligence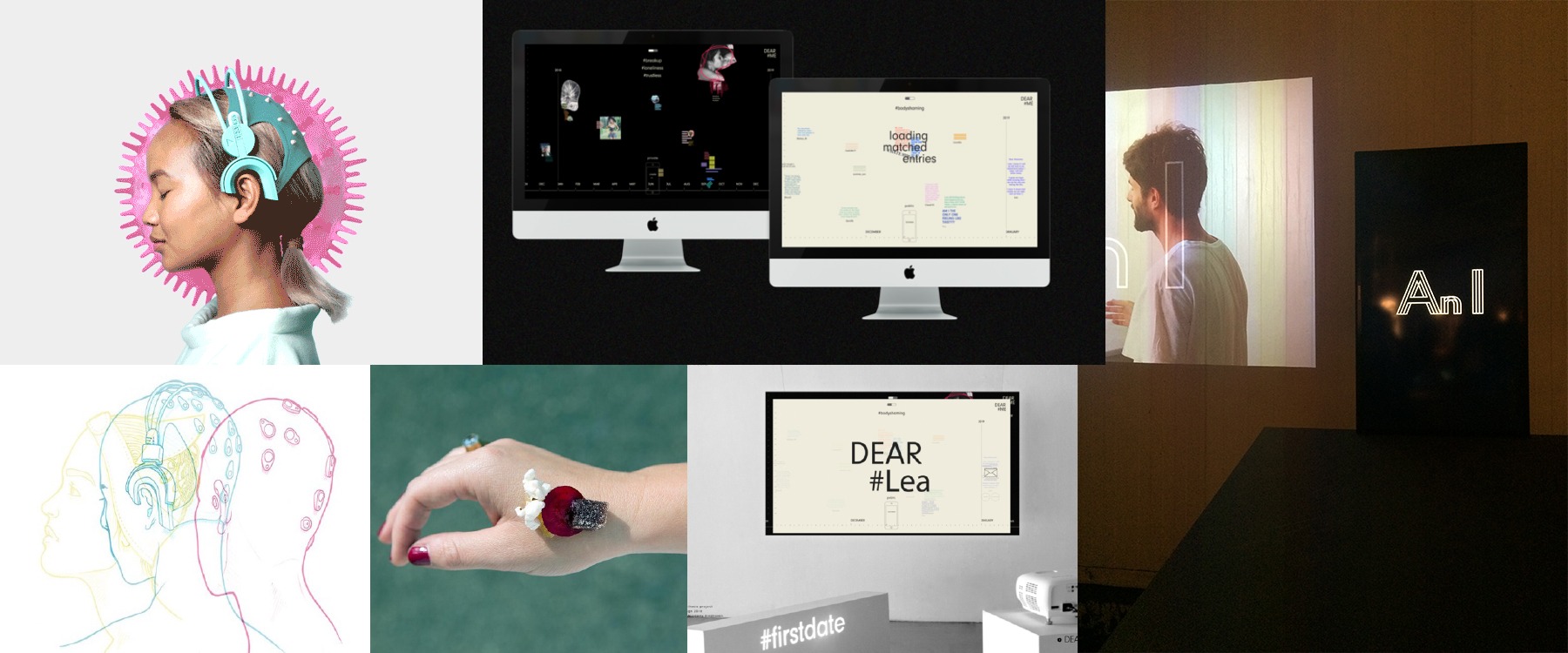 Increasingly, the media is  reporting on our overexposure to technology and social media, and research has shown it can lead to stress and anxiety; especially amongst younger generations. As a response to this, we are seeing designers creating AI tools that allow us to streamline our focus and empower us in the act of self-care.
One example by Sandra Kulig addresses the need for self-reflection by creating a digital journal named 'Dear #Me'. A project that specifically serves as a stress management tool for adolescents.
As we look for solutions to help us manage a world that is always on, spaces that are designed to help us to feel inspired, calm and enable self-reflection are key. Freyja Sewell's 'Mind Mirror' is an innovative medical training device that allows people to understand what is happening in their brain during meditation, empowering users to understand and enable mental wellbeing in their everyday lifestyles.
Both examples illustrate the opportunity for brands to offer new products and services that help people to achieve a sense of reconnection and enhanced self-awareness.
Human Sufficiency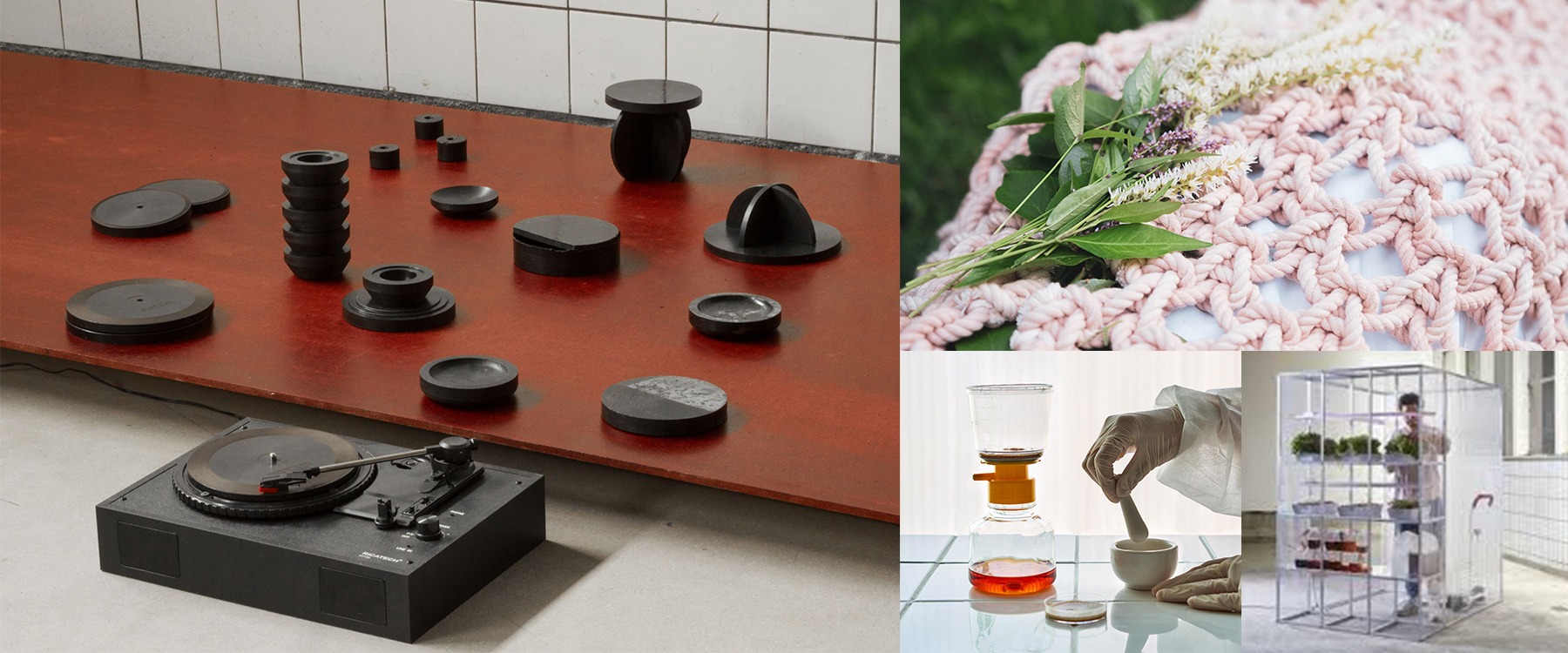 As the human population continues to increase at a rate which is outstripping the planet's resources, designers are looking at one of the quickest growing but under-utilised resources: human by-product and how it can become a valuable commodity.
Thieu Custers explored how human by-product can move from waste to fertiliser, by growing vegetables in his project Bodyponics. Another project explored by designer Shaina Garfield re-evaluates the purpose of a coffin by creating a fully biodegradable fungi-based alternative that helps the earth absorb the body's nutrients. This transforms cemeteries from stone graveyards into beacons of new life. Throughout the week other projects also showcased the potential of blood, urine and hair as bio-materials.
Once considered grotesque and untouchable, these projects showcase a new opportunity to make human circularity grounded and desirable. Brands can respond to this by considering how to eliminate the idea of waste whilst remaining highly functional.
 Collective Wealth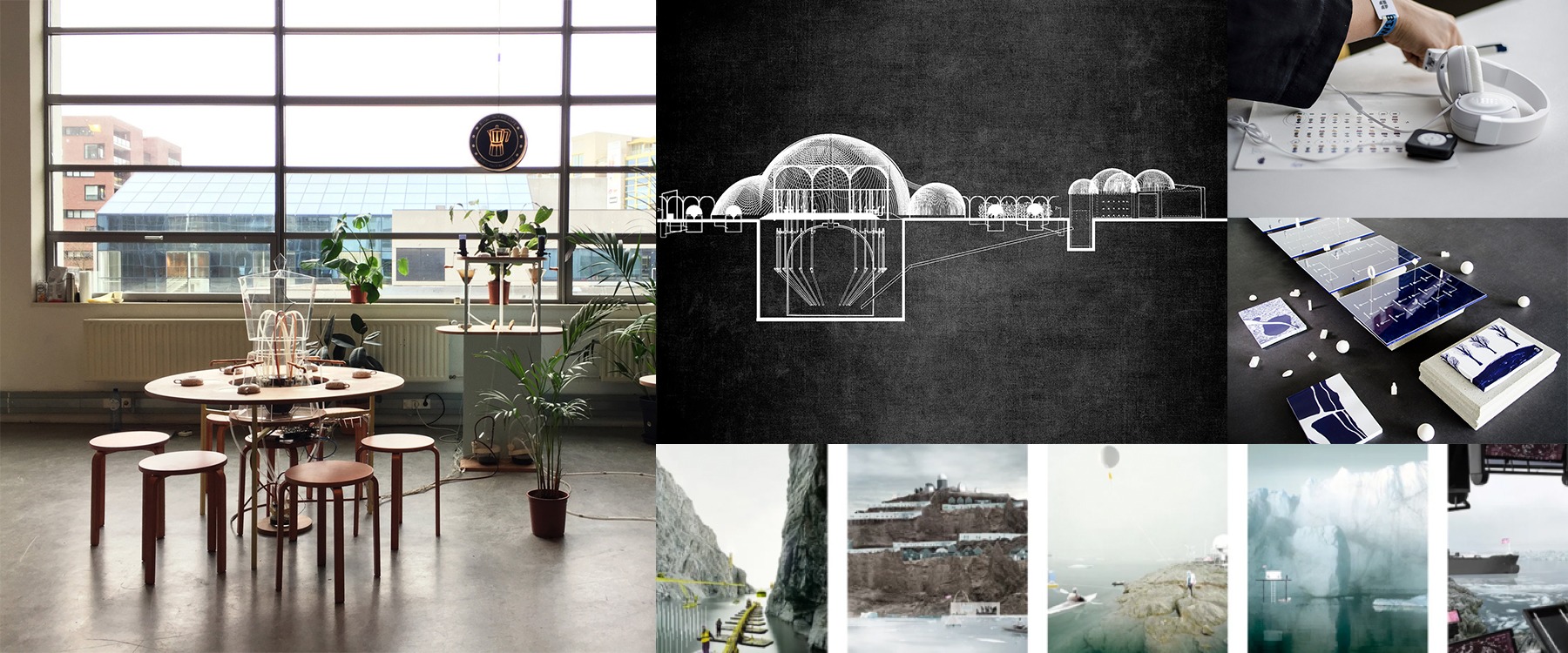 The theme of this year's Dutch Design Week, "If not us, then who?" embodies a challenge to approach macro topics with collective strength; positioning design as a platform to address the world's economic, social and environmental problems and this was evident in the work of a range of designers who approached this topic.
Some of which are highlighted in our Top 10 innovators article like the Arctic Commons. Notably, Foundation We Are created an audio-visual tour that collaborated with designers and activists to transform social and legal systems. Martina Huynh also created the 'The Basic Income Café' exploring the idea of shared wealth by using a coffee shop as an analogy to trigger conversations and debate around the topic of basic universal income.
These designers are envisioning an equitable future that represents a shift towards a collective and inclusive mindset in consumers. This is an opportunity for brands to recognise the benefit of joining communities and nations together, rather than revolving their future around singular brand profit.
Conscientious Modularity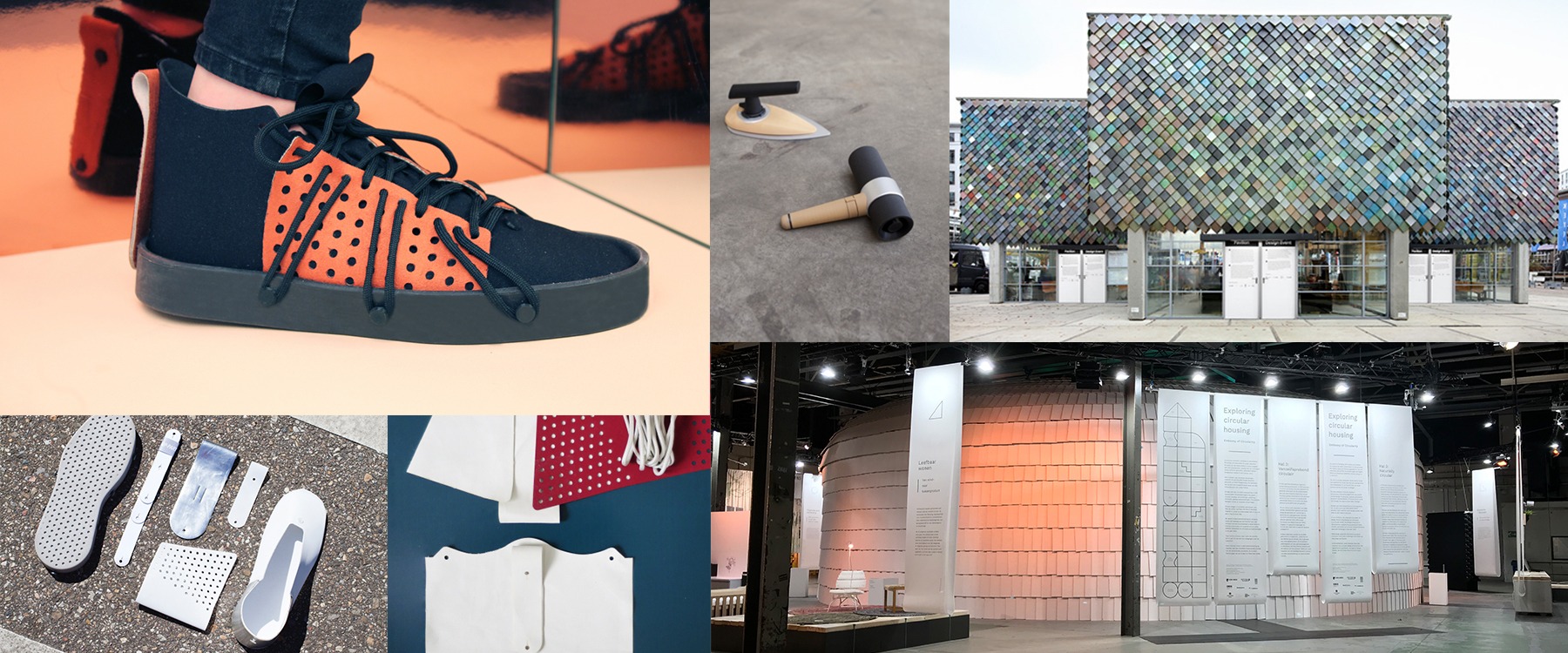 The use of recycled waste material was a common concept explored in projects at DDW, but the projects that stood out from the crowd were the ones that considered the afterlife of a product, rather than just simple reuse and recyclability.
Projects like the Embassy of Circularity (and its predecessor from last year The People's Pavillion) were completely modular pieces of architecture that borrowed materials in construction. 100% of the materials were undamaged and returned to the suppliers when the event was complete. Other industries that showcase this theme are household products and fashion, including UP PART, a modular sneaker that is "everlasting" through modular replaceable elements.
Without damaging or wasting materials, these projects challenge the throw-away culture of single-use products and packaging and recognise the desire for practical sustainability.  Inspiring brands to consider a whole lifecycle and afterlife of a product to make it truly fit for purpose.
Revolution Foodscapes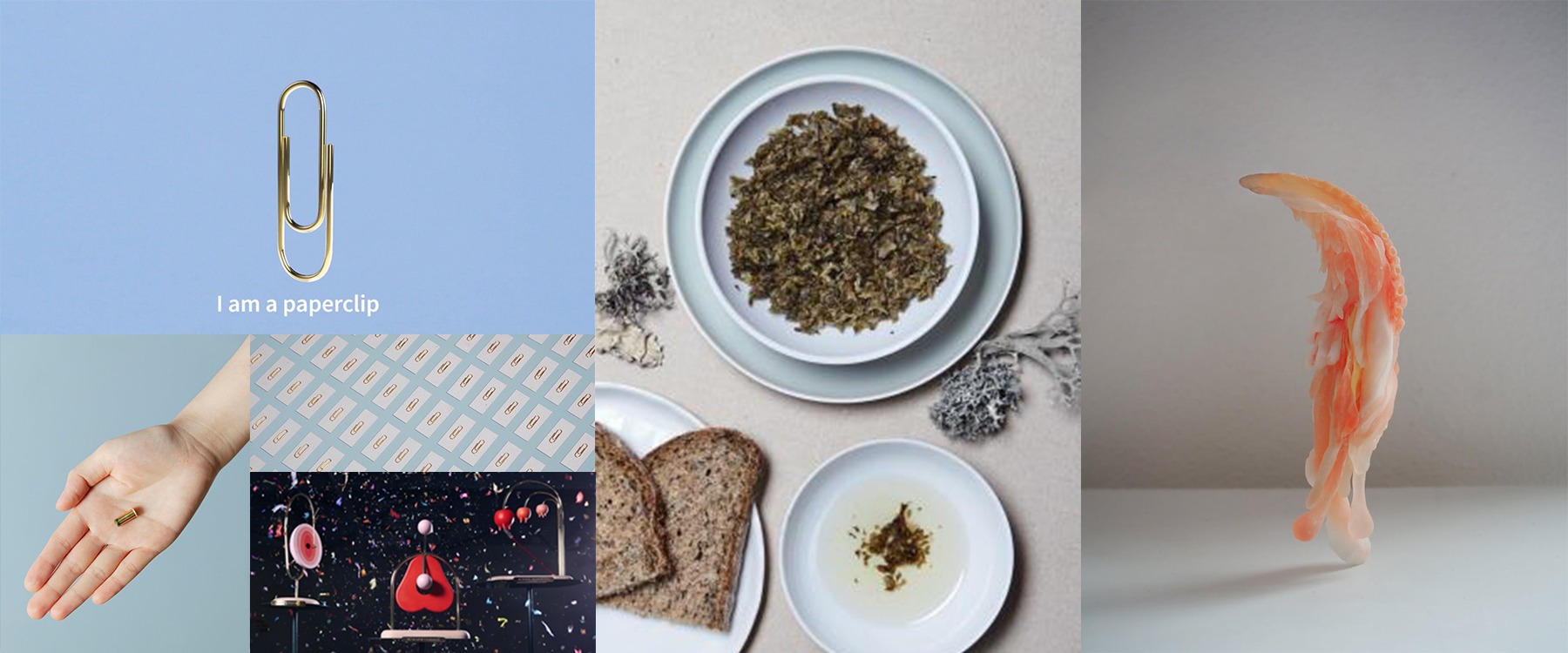 With the world's population growing and our priorities around what we eat changing, the need for innovating sustainable food systems makes us question how food cycles can ethically modernise, without compromising on functionality, flavour or our daily eating rituals.
With his speculative project envisioning in-vitro alternatives for Chinese medicine, Kuang-Yi Ku worked with biotechnology experts to help save endangered species of animals. Adelaide Lala Tam challenges the Western exploitation of milking cows by exploring how we can create more of a reconnection to our food. Unseen Edible by Julia Schwartz also explores alternative foods in a world of resource scarcity, positioning lichen as a source of abundant nutrition; a viable new food source capable of growing almost anywhere, from Earth to Mars.
Both examples recognise that the current food landscape is being challenged as creatives design our future food and drink systems. They also illustrate the need and opportunity for brands to balance food ethics with elevated food experiences.
What this means for brands
Dutch Design Week not only showcased the exciting work produced by forward-thinking designers, but it also celebrated the bold ideas and projects that will lead the way to the next generation of innovative brands. The work that stood out the most, stretched far beyond beauty and aesthetics, offering actionable ideas that can improve our lifestyles, communities and planet. Excitingly, the creative approach to problem solving seen during the week offers bold alternative perspectives on how businesses can become positively proactive and begin to offer what consumers will desire by adapting for a world that will greatly benefit from this kind of innovation through informed design thinking.